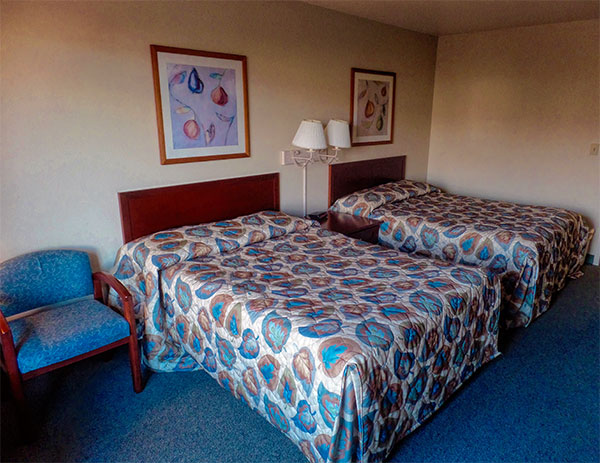 Southern Oregon University Cox Hall
Elevator to all floors
Air-conditioning in all rooms
Large windows that can be opened in each room
Coin-operated washer and dryer (bring your own laundry soap and quarters)
Lounges for relaxing; 2 of the 3 lounges have a television with cable, and the remaining lounge is a quiet space for reading
You will have the option of requesting either a room with a private bath or a room with a shared bath down the hall. The rooms with private bathrooms are similar to standard hotel rooms, while the rooms with the shared bath are traditional residence hall rooms.
Each type of room offers the following amenities:
Rooms with private bath:
Two double beds
Private bathroom (some rooms have a tub/shower, others have showers only; please let us know if you have a preference)
Microwave
Mini-refrigerator
Table with a lamp
Dresser
Rooms with shared bath down the hall:
Two single beds
Reading lamp over the bed
Desk with a lamp
Overhead light
Dresser with mirror (built-in)
Bathrooms: There is both a men's and a women's bathroom on each of the three floors, and there are several sinks, showers, and toilet stalls in each of them. If you must be near a bathroom for medical reasons, please let us know in advance, and we will do our best to accommodate you.
All rooms at Cox Hall are provided with the following:
Bed linens (pillows, sheets, pillowcases, blankets, and bedspread)
Bath towels and washcloths
Bar soap; bring your own shampoo and conditioner
Extra towels, blankets, and pillows are available if you need them. There will be a towel exchange midway through your program so you will be able to get fresh towels at that point. You will need to bring your hairdryer if you use one.
For participants attending our downtown residence program, please visit Stratford Inn for general information about the hotel. You can find specific room information by clicking Stratford Inn Two Queen Room. The rooms for our program will all be the Two Queen Bed types. The price for the room within the program fee is per room, so two participants sharing a room will split the cost of the room.